Grooming
We offer an extensive array of grooming services. Appointments are available Monday through Sunday. Please call us at 602-265-3198 to schedule. No appointment is necessary for pets that only need a nail trim or kennel bath. Feel free to stop by any time during business hours.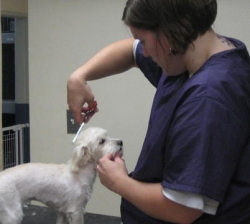 Our pet stylists take pride in their work and can cut and style your cat or dog's coat according to breed standards and the latest pet styles. We utilize the Hydrosurge system to bathe and dry your pet. This system will get even the dirtiest dog sparkling clean! All grooming sessions include a bath, nail trim, ear cleaning, and styling.
Does your pet have fleas or ticks? We can provide a special bath using a medicated shampoo. Medicated shampoo treatments are available for an extra charge.
Groomer Instructions (for clients with booked appointments)
Pricing
Pricing for grooms varies according to size and breed of the animal, condition of the coat, cooperation of the animal, and style of groom. Please call our office for an approximate quote or bring your pet in to visit and speak with one of our groomers.
Grooming- (call or stop by for an estimate)
Technician bath- $25 Small, $30 Medium/Large, $35 Extra Large
Toenail Trims- $17
Difficult Pets
Our professional grooming staff is skilled at working with even "difficult pets". Many of our grooming patients have been turned down by other parlors, but patience, love and positive rewards will work wonders with most challenging pets. If your pet still insists on staying dirty, we have veterinarians on staff who are able to safely sedate pets.
Vaccinations
Is your pet due for vaccinations? The only vaccination we require for your pet to be groomed is a Rabies vaccine. Please ask a staff member for details.